Elon Musk, the richest man on earth, has started a new AI company.
Nvidia made a $50 million investment in a biotech company using AI.
SingularityNET price jumped sharply on Thursday as investors reacted to the latest investments in artificial intelligence (AI). AGIX, the network's token, jumped to a high of $0.2640, the highest level since July 3rd. 
AI investments rising 
Artificial Intelligence has been a major theme this year as investors cheer the launch of key projects like OpenAI's ChatGPT and Google's Bard. As a result, most companies with an exposure to artificial intelligence like Nvidia and C3.ai have done well this year.
There are two main reasons why AGIX and other AI cryptocurrencies are rising. First, Elon Musk, the richest man in the world, announced that he had launched a new AI company known as X.ai. 
Details about what the company will do and how it will work are still thin. Still, analysts believe that the company will seek to build a better AI model than ChatGPT and Bard. 
Elon Musk has a long history with AI. For one, he was one of the initial funders of OpenAI. Also, a company like Tesla uses some AI features already. Therefore, investors believe that his involvement will lead to more growth in the industry.
Second, AI coins and stocks jumped after Nvidia announced a $50 million investment in Recursion, a biotech company. Recursion will use Nvidia's cloud platform to handle over 23 petabytes of biological data. This is a sign that there are still more demand for the AI financial assets.
SingularityNET price forecast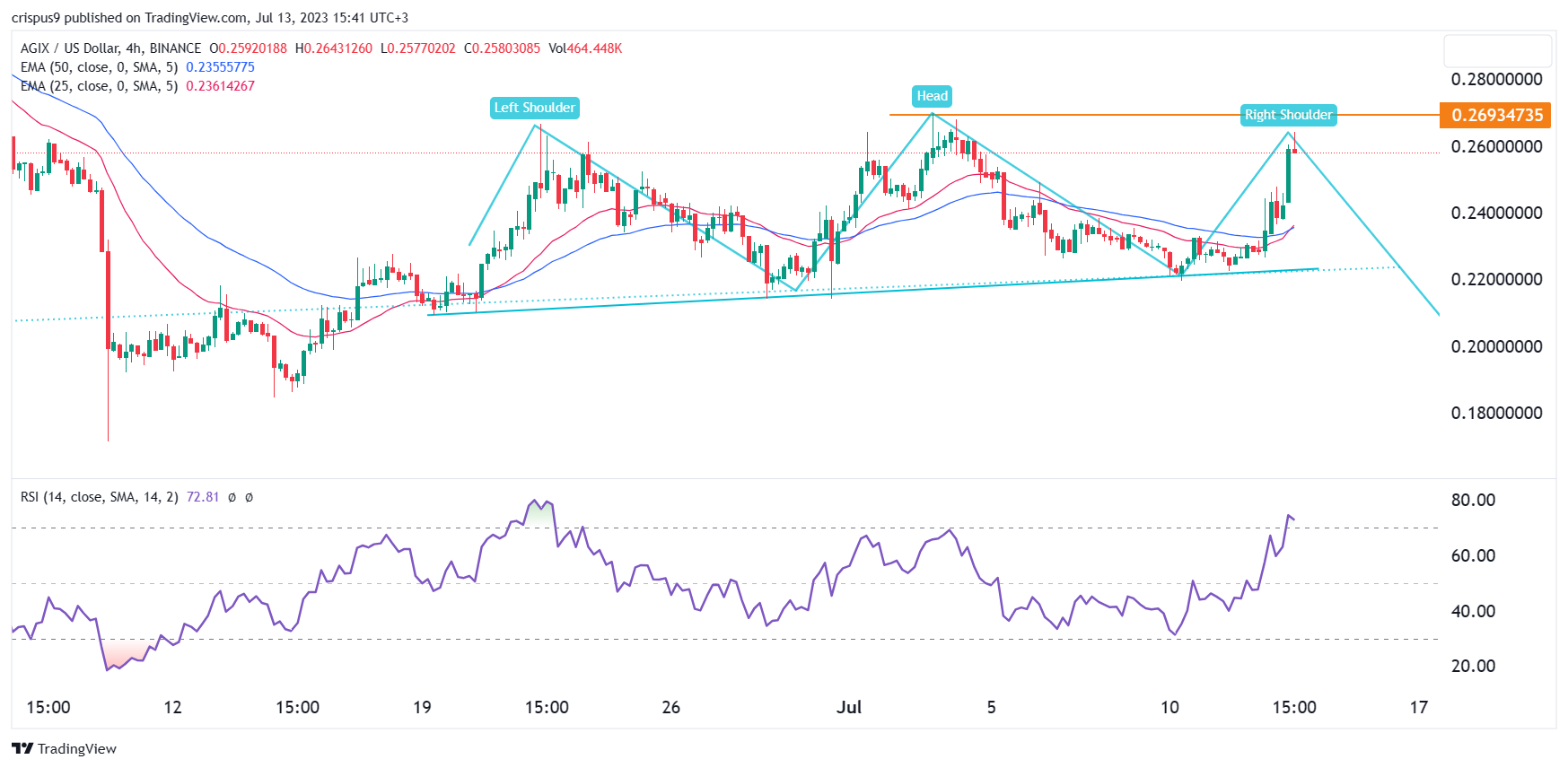 The 4H chart shows that the AGIX crypto price has made a strong bullish trend in the past few days. It has moved above the important support level since June 20th. The coin has moved above the 25-period and 50-period moving averages. It is also approaching the important resistance level at $0.2693, the highest point on July 3rd. 
Meanwhile, the token seems like it has formed a head and shoulders indicator while the Relative Strength Index (RSI) has moved above the overbought level. Therefore, a move above the right shoulder level of $0.26 will invalidate the bearish view. A move above the resistance at $0.2693 will lead to more upside, with the target being at $0.30.