Renowned Bitcoin analyst Plan B has recently revealed an innovative trading strategy. He claims it could yield profits significantly surpassing those achieved by simply buying and holding Bitcoin.
Plan B's new trading strategy revolves around the Bitcoin halving, garnering attention for its significant returns.
A Trading Strategy Around the Bitcoin Halving
The Bitcoin halving is an event that occurs approximately every four years. It has historically sparked significant price increases due to a 50% reduction in the rate new BTC can be mined.
These events create a surge in scarcity, which according to Plan B, these periods offer an optimal opportunity for savvy investors.
Plan B's model, dubbed the "Stock-to-Flow Trading Rule," involves buying BTC six months before the Bitcoin halving and selling 18 months after the event. This trading strategy aims to exploit Bitcoin's cyclical behavior. Consequently, capturing the dramatic price increases often seen around the halving while avoiding the ensuing bear markets.
The on-chain analyst drew comparisons between Bitcoin's price trajectory and the results achieved by his strategy. In every case, the model outperformed Bitcoin's price trend.
"Bitcoin is at $30,000, so the strategy [anticipates a] 4X in the Bitcoin price. We are awaiting the next Buy Signal and we know already that the halving will be around April 2024, so six months before that is around October…. Then [Bitcoin will] enter the market and will stay there for two more years until October 2025, 24 months later," said Plan B.
Still, Plan B emphasized that the Stock-to-Flow Trading Rule is not a prediction model. Instead, it is a strategy that utilizes defined buy and sell rules to dictate market participation periods.
Bitcoin Market Cycle Plays a Pivotal Role
The implementation of this strategy requires a thorough understanding of the "Bitcoin Market Cycle." According to Plan B, the model identifies the current stage as the "early bull market."
The subsequent stage, where the significant price jumps occur, is anticipated to start around the next Bitcoin halving event, slated for April 2024.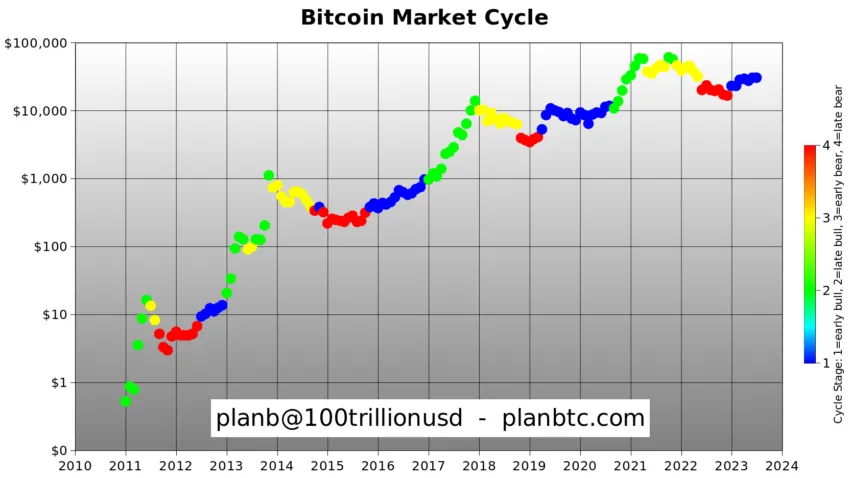 As Bitcoin enters the final stretch before the next halving, traders are eagerly watching for signals indicating the late bull market phase. In previous cycles, the transition to the green stage began shortly after the Bitcoin halving, catalyzing an accelerated bull market.
Despite these encouraging historical trends, the upcoming Bitcoin halving's outcome remains uncertain. Factors such as black swan events could delay or disrupt the expected price rally.
Disclaimer
In adherence to the Trust Project guidelines, BeInCrypto is committed to unbiased, transparent reporting. This news article aims to provide accurate, timely information. However, readers are advised to verify facts independently and consult with a professional before making any decisions based on this content.