In the fast-paced universe of blockchain and cryptocurrency, the necessity to secure digital assets is of paramount importance. With rising sophistication in hacker attacks and scams, securing assets effectively has become crucial. 
A cold wallet, or hardware/offline wallet, has emerged as the most secure method of storing crypto assets, ensuring that the private key of a crypto wallet stays offline and out of reach from online malevolent activities.
The Private Key: Your Key to Securing Assets
Owning your private key is essentially the same as owning your assets. This powerful tool provides complete control over your assets without the interference of any government or institution. It is similar to having a digital lockbox that only you can access, sign transactions, and manage your holdings.
Using decentralized crypto wallets, also known as Web3 wallets, aids in effectively managing these assets. However, users need to secure their private keys and recovery phrases vigilantly, as they serve as the only gateway to access these digital assets.
Why Choose a Cold Wallet?
Unlike hot or software wallets, cold wallets are not constantly connected to the internet, mitigating the risk of online hacking threats. When considering a cold wallet, one must take into account factors such as security and convenience. 
The CoolWallet Pro, a fine example, ensures that users' private keys are safely stored while offering the convenience of portability with its credit-card-like dimensions.
To stay aligned with the rapidly evolving Web3 world, a cold wallet must support multiple blockchains and offer a variety of services. 
A few crucial security guidelines to follow when securing crypto assets include using a strong password, avoiding phishing attacks, and securely storing handwritten recovery phrases. Also, it is advisable not to use the same recovery phrase or private key for both cold and hot wallets.
Transparency in Security: The CoolWallet Approach
CoolWallet, a global hardware wallet brand, is set to make its secure element chip's code open-source. This move aims to enhance transparency and alleviate user security concerns. 
It's a response to the backlash faced by Ledger, a rival company, for launching a private key recovery service that has been criticized for increasing asset security risks.
The CoolWallet design is unique and user-friendly. It is tamper-proof with an exterior military-grade encrypted Bluetooth and an advanced CC EAL6+ secure element chip, all of which speaks volumes about their commitment to user security. 
With no third-party recovery service, the company ensures that private key information cannot be exported from the wallet.
CoolWallet's decision to open source their code invites the global community to verify their security measures, fostering user trust independently. This proactive move underlines that neither governments nor third parties can obtain users' private keys and assets through CoolBitX or any third-party institution.
Limited Edition CoolWallet Pro
In a pioneering fusion of blockchain technology and artistic ingenuity, CoolBitX is marking the anniversary of its innovative product, the CoolWallet Pro, with a special limited edition release that embodies the spirit of global artistry and cryptocurrency culture. 
A testament to CoolBitX's commitment to bridging diverse realms, this limited edition collection features exclusive designs by three prominent European artists: Italy's synthwave maestro Neontenic, the French infrared virtuoso Senbenito, and Spain's surrealist prodigy Sergi Tugas.
Neontenic's futuristic visuals, born from synthetic soundscapes, converge with Senbenito's captivating retrowave aesthetics bathed in metropolitan neon lights, and Sergi Tugas's visionary surrealism—a tribute to Spain's enduring love affair with the art form. 
Each artist's unique style harmonizes with CoolWallet Pro's trailblazing technology, creating an aesthetically and functionally unparalleled offering.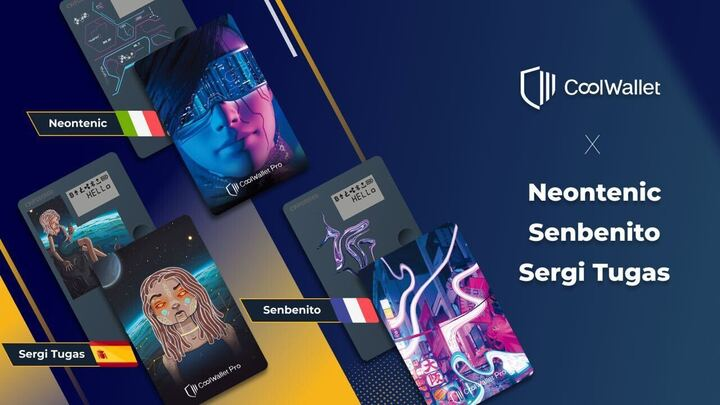 Michael Ou, CEO of CoolBitX, has lauded this groundbreaking partnership, celebrating the harmonious blend of these extraordinary artists' talents with the cutting-edge technology of CoolWallet Pro.
Launching exclusively on CoolBitX's official website from June 1st, 2023, this limited edition collection elevates the concept of a hardware wallet, transforming it into an artistic statement. 
As an intersection of art, blockchain, and NFT culture, this collection promises not only top-tier security for cryptocurrency enthusiasts but also a chance to own a unique piece of digital art that echoes the spirit of our time.
With the discount code "BEINCRYPTO", valid until September 30th, you can enjoy a 5% discount on the CoolWallet Pro here.
Prioritizing Security with CoolWallet
CoolWallet places paramount importance on tamper-proof technology. This assures users that their wallets cannot be opened, and thus private keys are reverse-engineered – a security issue previously faced by other brands like Trezor. 
The design of CoolWallet – credit-card sized in weight and dimensions – gives it unparalleled portability, fitting neatly into a normal wallet.
Convenience is another major advantage. CoolWallet connects to mobile phones (both iOS and Android) via Bluetooth, a welcome departure from many cold wallets in the market that require laptops, making them more cumbersome.
In conclusion, CoolWallet's dedication to security, transparency, portability, and convenience sets a new standard for cold wallets. 
By making their secure element chip code open-source, CoolWallet solidifies its commitment to user trust, showcasing that it's not just about owning the private keys to your assets but also the peace of mind about their security.
Links:Website | Coolwallet Pro | Twitter | Discord | Instagram
Disclaimer
All the information contained on our website is published in good faith and for general information purposes only. Any action the reader takes upon the information found on our website is strictly at their own risk.