The tech giant Meta has unveiled Threads, its newest microblogging app designed to rival Twitter. However, its attempt to enter the microblogging sphere has raised significant concerns. Particularly regarding user privacy and data collection.
Amid these circumstances, numerous decentralized alternatives are emerging as more privacy-friendly options.
Threads, as per listings on Apple's App Store, is a text-based conversation app allowing users to carry over their Instagram handles and followings.
According to Chief Product Officer Chris Cox, Meta aims to offer a social media platform managed sensibly with functionalities strikingly similar to Twitter.
"We have been hearing from creators and public figures who are interested in having a platform that is sanely run, that they believe that they can trust and rely upon for distribution," said Cox.
Still, this assurance has not mitigated the reservations expressed by the likes of Jack Dorsey, former CEO of Twitter. His concerns revolve around the extensive data requirements of Threads.
Meta's Threads includes collecting data related to health, financial information, contact information, browsing history, location, purchases, and more.
As the debates surrounding Meta's new application intensify, social media users are starting to gravitate towards decentralized alternatives. In fact, this trend took a significant turn after Twitter put temporary limits on the number of posts users can view. 
Verified accounts are allowed to read 6,000 posts daily. In contrast, those who have not undergone verification and newly established unverified accounts are limited to reading 600 and 300 tweets each day, respectively.
Twitter CEO Elon Musk maintains the decision aims to "address extreme levels of data scraping [and] system manipulation" on the social media network.
"Almost every company doing AI, from start-ups to some of the biggest corporations on Earth, was scraping vast amounts of data," said Musk.
Is Decentralized Social Media The Answer?
In response to growing privacy concerns, decentralized social media networks are gaining popularity for their transparent, censorship-resistant operations. They aim to balance creating engaging social spaces and respecting their users' privacy. This is a seemingly challenging task in today's tech-centric society.
For instance, Odysee, DLive, and DTube have emerged as compelling YouTube alternatives. They have captured almost 44% of user share by average monthly unique visitors. Similarly, Steemit, PeakD, MAIN Community, and Ecency offer decentralized forums resembling Reddit, serving as platforms for discussions and content sharing.
For users seeking a shift from Twitter and Facebook's traditional model, Gab, Mastodon, Bluesky, Minds, Lenster, and Snort offer enticing alternatives. Indeed, these platforms, built on open-source protocols, provide a space for social networking and microblogging, garnering approximately a quarter of average monthly unique visitors to decentralized social media platforms.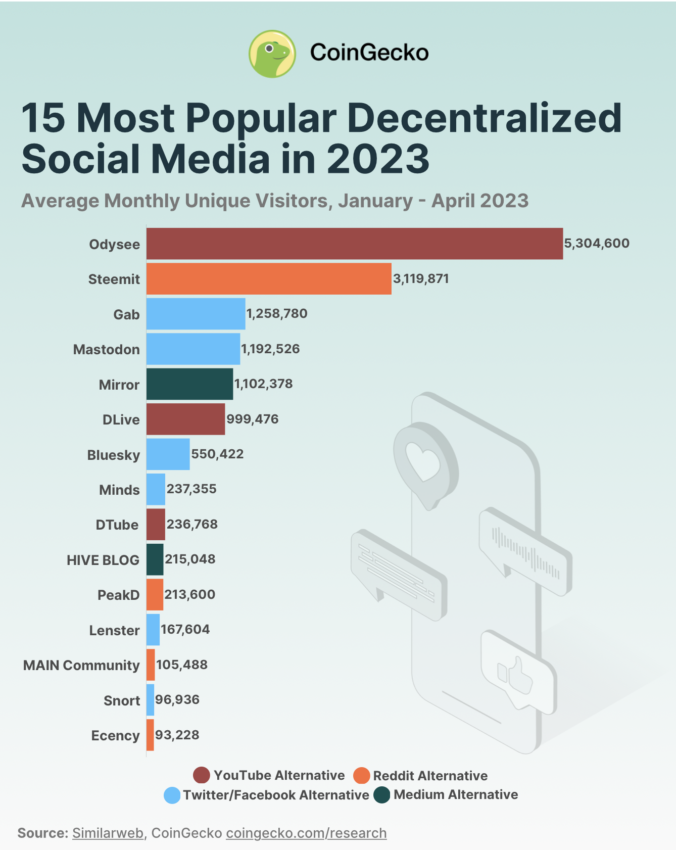 Despite their rising popularity, decentralized platforms face a significant challenge: competing with their mainstream counterparts' user base.
Facebook, YouTube, and Instagram command an estimated two billion monthly active users each in 2023. Decentralized platforms can only aspire to reach this figure. Yet, these platforms' continued exploration and advancement indicate a shift in user preferences influenced by rising privacy concerns.
The race for a "sanely run" social media platform continues. Consequently, it is still unclear whether the centralized giants or the decentralized contenders will prevail.
Disclaimer
Following the Trust Project guidelines, this feature article presents opinions and perspectives from industry experts or individuals. BeInCrypto is dedicated to transparent reporting, but the views expressed in this article do not necessarily reflect those of BeInCrypto or its staff. Readers should verify information independently and consult with a professional before making decisions based on this content.